Recent Space Reads for Kids
Books about space are frequent and not so far between. Sometimes so many pass over my desk, that I groan "not another book about space." However, I am impressed how many authors find ways to reach new galaxies (the puns are just too easy).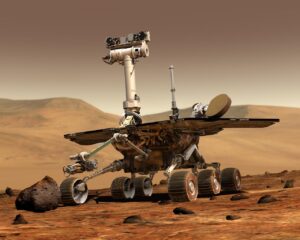 Here are a few of my most recent favorites:
A Rover's Story by Jasmine Warga
This is one of my top middle grade/ chapter books of 2022. Jasmine Warga is coming to my library this Fall and I am so excited! The plot follows a Mars rover, "Res" from assembly in a NASA laboratory to travelling to Mars. The plot also intertwines with a young girls narrative who writes letters to Res. I know there's factual errors, but this is a heartwarming story that can really get realistic fiction fans interested in sci-fi books and space in general. My fellow blogger Caitlin Savage even talked about an extension activity she did with this book in her post.
Hey-Ho, to Mars We'll Go!: A Space-Age Version of "The Farmer in the Dell" by Susan Lendroth
Yes, this book is five years old but I just love it so much. The title basically explains it, but I love how it explains a journey to space in simple language with more detailed explanations that you can read to older kids. This makes a great storytime read aloud for little kids, but also a title you can bring to a school visit.
Star Child: A Biographical Constellation of Octavia Estelle Butler by Ibi Zoboi
This 2022 biography is one of the most unique titles I ever read. Zoboi uses poetry to dive deep into Octavia E. Butlers life, in a way that is relatable for kids and adults alike. She goes into vivid detail about Butler's life from living through the Space Race, Red Scare, and Civil Rights Movement. This book may be borderline "space," but it's called Star Child and Butler was a science-fiction writer, so it counts.
Packing for Mars For Kids by Mary Roach
I'm not always the most into young readers' editions, but this title is very well done. There are fun facts and deep research about space travel and a lot of details about farts and boogers and going to the bathroom. This book really talks about how gross life is in space and can be really appealing for not only kids that like space, but also those readers that love the gross weird stuff.
Yes, I don't think there will ever be enough space books. Are there any good titles you've read recently? Let us know in the comments.