Our Blue Planet: EARTH Featured Activity – Polar Bears Go With The Floes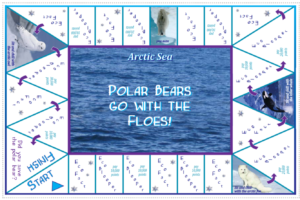 STAR Net's Our Blue Planet: EARTH campaign is a celebration of NASA's focus on Earth's oceans, understanding how they are changing and their impact on sea life and our weather and climate systems. Participate in this event during the summer of 2022 by sharing activities and resources with your patrons! This month's featured activity is Polar Bears Go With The Floes 
In this collaborative board game everyone wins, or everyone loses! As they play, groups of three to four participants build an understanding of how human actions impact global change. Facilitate as an in-person program at your library or a Take & Make activity. 
Time to complete: 40 minutes to 1 hour 
Ages: Tweens (ages 9-12) and families. 
Modification and Preparation List 
Total Cost: Free   
Fundamental Space Science Concepts – Polar Bears Go With The Floes relates to Our Blue Planet: EARTH: 
What's ice got to do with it? 
While most of the water on Earth is in our salty oceans (97%), the next largest portion (2%) is fresh water locked in glaciers and ice caps. The ice caps of the Arctic and Antarctic are important regulators of the global climate and ocean temperatures. 
Not only does sea ice keep our planet cool by reflecting sunlight back into space, it provides vital habitat to animals. As sea ice declines, as it has been by 40% in the last 40 years, it puts animals such as arctic foxes, polar bears, and seals at risk of losing their habitat.  
Where do we fit in? 
Human activity, such as the burning of fossil fuels in power plants, driving cars, and heating buildings, has been a driving force in the rapidly changing global climate. As the global temperature rises, the Earth is experiencing a warming ocean, shrinking ice sheets, and retreating glaciers, as well as more extreme weather events. 
While humans clearly have an impact on the global environment and the ecosystems it supports, we also can play a significant role in stabilizing climate change. The Polar Bears Go With The Floes game offers a chance for players to explore choices we can make in our everyday lives – such as reducing our fossil fuel consumption, recycling, or composting – to help make a difference in reducing global warming.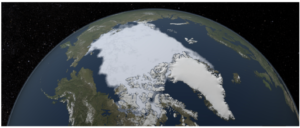 Arctic sea ice coverage in 1984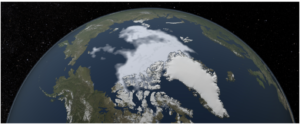 Arctic sea ice coverage in 2012 
Resources for you to use and share with patrons: 
NASA Video: On Thin Ice: Why Ice Loss Matters 
This video demonstrates the connection between greenhouse gas emissions and the loss of Earth's ice masses. 2 min 14 sec. 
NASA Climate Kids Video: Oceans of Climate Change 
This video demonstrates how the ocean is an important regulator of the planet's global temperature by absorbing heat. 3 min 49 sec. 
This gallery features images of various locations on planet Earth, showing change over time periods ranging from centuries to days. 
 STAR Net's Our Blue Planet: EARTH Event Page: https://www.starnetlibraries.org/our-planet-earth/ 
Discover more Our Blue Planet: EARTH Toolkit activities at  
http://clearinghouse.starnetlibraries.org/161-our-planet-earth 
This content was written by Claire Ratcliffe Adams from the Space Science Institute