A PASSPORT TO THE UNIVERSE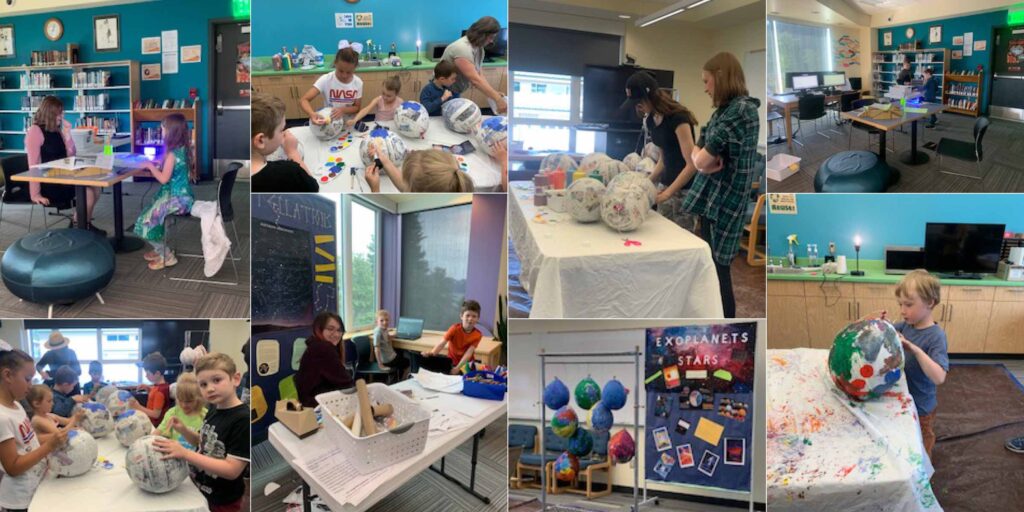 by Martha Saladino at NASA's Universe of Learning
Seward is a scenic town in south central Alaska. Typical activities in the area include wandering in the Kenai Fjords National Park, observing the wildlife at Resurrection Bay, and visiting the Alaska SeaLife Center. Yet, in the summer of 2022, the Seward Community Library & Museum put together a not-so-typical event, taking participants on a trip to discover the wonders of the universe beyond Earth and learn how we know about them.
The Seward's library team had been working together for less than a year, and the event—supported through the National Girls Collaborative Project by Girls STEAM Ahead with NASA, a project from NASA's Universe of Learning—was their second major event. As with any trip planning, the team learned a lot along the way, including their strengths, weaknesses, and tons of science!
To engage the audience, the library's team organized a passport-style event, welcoming "passengers" of all ages. Once passengers had boarded, they were free to land in one of the four stations in the venue. Each station had a specific science theme, boards with related information, and at least one activity to show the science and make it more tangible to the diverse audience.
Boarding and Take Off
Upon arrival, volunteers handed out permission forms, passports, and chalk to the participants. Before boarding, the staff challenged young passengers to draw on the sidewalk anything that came to their minds when thinking about space. Young passengers also received a "travel kit" that included a pencil and notebook so they could take notes about anything they found interesting during their journey.
Station 1: Coding is Cool
At this station, the young space explorers—and their space guardians—learned that computers on Earth talk to rovers and space observatories by transforming words and pictures into binary code. Kids collected not only their first passport stamp, but also their first souvenir: They made binary bracelets using the directions from NASA's Universe of Learning activity How to Talk to a Spacecraft. The Seward's library team also included other activities, such as pixel-art coloring, and they set up a couple of computers to let kids try their hands at basic coding.
Station 2: Constellations
In this station, kids learned about constellations and got a star wheel. But it was the young cosmic explorers' parents who were most excited about these items and couldn't wait for it to get dark enough outside to start using them.
Station 3: Exoplanets, Stars, and More
This was a very busy station with plenty of activities to try!
We know that scientists find new planets. But do we ever stop to think how? The library's staff set up a bare light bulb and a small ball hanging on a string between the lightbulb and the wall to show that one of the ways scientists look for planets is by looking for dips in light from distant stars.
Before the event, the library team made paper mâché globes. During the event, they let the young space explorers use their imagination and paint the globes the way they thought distant exoplanets might look like. The collection of imagined exo-worlds made up a new enormous planetary system displayed in the atrium of the library.
This station also featured NASA's Universe of Learning activity The Expanded Universe: Playing with Time, which uses balloons to demonstrate how the universe expands.
Another activity used from NASA's Universe of Learning was the Paper Circuits: Light Up Exploded Stars. But due to technical difficulties it had to be moved to Station 4, encouraging young space explorers to make their way there.
Station 4: The Electromagnetic Spectrum
Several screens in this station displayed interactives from ViewSpace, another resource from NASA's Universe of Learning, for the young space explorers to try out. They also learned about the electromagnetic spectrum by looking at different light sources through diffraction glasses, playing with highlighters and black light to learn about UV light, and learning about microwaves and their handiness to heat up food, while enjoying a bowl of popcorn made with guess what? A microwave onsite. Yummy!
Space Is for All!
To accommodate the needs of the youngest members of the visiting families, staff at Seward's library made a special station for children up to 2nd grade that included coloring pages from NASA's Chandra X-Ray Observatory Coloring and Activity Book and other websites.
Souvenirs from the Universe
Once young space explorers had earned all the stamps in their passports, they could claim a souvenir bag that the Seward's library team had put together in advance. The bag had a variety of extra activities, including coloring pages, word searches, NASA's JPL instructions to make Straw Rockets, and a set of NASA's Universe of Learning Exoplanet Trading Cards.
The Next Generation of Scientists and Space Explorers
A nice touch to keep inspiring young generations was the set of framed pictures of famous scientists that the staff displayed along the stairs leading up to the event to show kids that anyone can be a great scientist. At the end of the stairs, there was a mirror with text saying "The next one could be you!"
This summary does not do justice to the number of resources the staff made available for the kids to explore. Since Seward is surrounded by nature, kids usually spend time looking down under rocks, and in the ocean, rivers, and streams. They also look up at the stars and the not-so-unfamiliar northern lights, but it seems that they are not as curious about the sky and what is in it. The Seward library's team hopes that this event sparked the light of curiosity about our universe in some of the kids they welcomed that day.
NASA's Universe of Learning is a competitively selected member of the NASA Science Activation program. The Science Activation program connects NASA science experts, and real content and experiences with community leaders to do science in ways that activate minds and promote deeper understanding of our world and beyond. This work is supported by NASA under award number NNX16AC65A to the Space Telescope Science Institute, in partnership with Caltech/IPAC, Center for Astrophysics | Harvard & Smithsonian, and JPL.
Any opinions, findings, and conclusions or recommendations expressed in this material are those of the author(s) and do not necessarily reflect the views of the National Aeronautics and Space Administration.