American Library Association Annual Conference – STAR Net Activities
The American Library Association (ALA) Annual Conference was a lot of fun, and we were thrilled to see many of you in person.  
We hope you got a lot out of the workshops, one-on-one conversations, and public presentations. 
We've summarized our participation and have rounded up the activities and resources we shared.  
NASA and SEAL Booths 
 We hosted two booths that were wildly popular.  
SEAL – Solar Eclipse Activities for Libraries 
We are helping libraries prep for two beautiful eclipses that are coming up.  
Annular Eclipse on Saturday, October 14, 2023 
Total Eclipse on Monday, April 8, 2024 
You can register for FREE eclipse glasses and find out more about SEAL on the STAR Net website.  
At the NASA booth we shared activities that you can use with your patrons to celebrate the James Webb Space Telescope (JWST). We also have a suite of videos that will support your STEAM engagement with patrons, including STEAM Strategies: Strategies for Inclusion. Read more on JWST and check out the videos on the five NASA@ My Library STEAM Strategies YouTube playlist.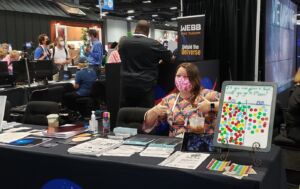 Photo: Anne Holland at the NASA table. An easy and fun activity for your patrons is to put up a sticky board and put up a question such as "If you were given a seat would you go to the Moon?" A lot of people said yes, as seen by the dots in the yes/no columns.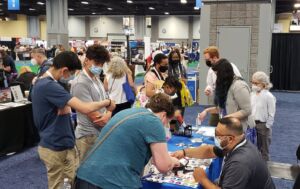 Button making was a huge hit and an instant conversation starter. Participants chose their own images and learned to make buttons. Many librarians said that their patrons love making buttons, too!
NASA Hyperwall 
Earth, Moon, or Mars?  
We presented this game in person at NASA's Hyperwall (a high-resolution video wall that is quite large). It's a lot of fun to try to figure out whether an image was taken on Earth, Moon, or Mars.  
Find the digital game on scigames.org. 
If you prefer an activity that uses paper, search Mars Match Game on the STAR Net Clearinghouse.  
To see the demo of how this game would be played with an audience, watch this video on YouTube.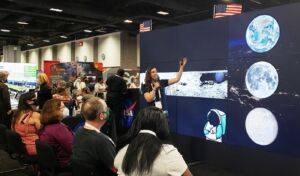 Claire Ratcliffe Adams facilitates the Earth, Moon, or Mars activity on the Hyperwall.   
Workshops  
STEAM Equity: Gender Equitable STEAM Programming  
The STAR Library Network and our partners at the Emmy award-winning SciGirls television partnered to explore the importance of gender equitable programs where girls can develop positive STEAM identities. Strategies were shared to engage girls in science learning, participate in interactive activities geared for tweens, and explore culturally responsive exhibitions for the library setting.  
Participants heard from two project partners who are participants in the NSF-funded STEAM Equity project: Adad O'Campo from Blue Island Library in Illinois and Rebecca Lynham in Purcell Public Library in Oklahoma. Advisors on the project, Flo Trujillo, REFORMA de Nuevo Mexico and Veronica Casanova from Tulare County Library shared programming tips and discussed highlights from Miguel Ruiz' article What I tell People When They Ask About LatinX Engagement. 
SciGirls Seven: How to Engage Girls in STEM  
SciGirls shares seven strategies and how to implement them. This guide isn't just for kids who identify as girls. The strategies work for all learners. Everyone benefits from a gender equitable approach to STEM.  
The guide suggests you use an activity without step-by-step directions. The participants at the ALA session tried Parachute Parade, designing a safe landing for a toy figure and it generated a lot of discussion.  
In What I Tell People When They Ask About Latinx Engagement Miguel Ruiz shares ideas to better serve Latinx patrons. 
Don't Talk at Them – Learn with Them! Facilitation Strategies and Resources to Help Your Library Engage Young Patrons in STEAM Learning Experiences 
Library staff don't need to be a "STEAM Expert" to facilitate virtual or in-person STEAM programs. Using a "Guide on the Side" approach to library facilitation and STEAM works well in a library's informal learning atmosphere. This session was based on a publication, "STEAM Learning in Public Libraries: A 'Guide on the Side' Approach for Inclusive Learning" in the Association for Library Service to Children's Fall 2020 Journal."  
What's Next? 
Make sure you check out the resources shared above and let us know what you'd like to see from us at the American Library Association's Annual Conference in Chicago in 2023!