STEM Tales Project Applications are Open!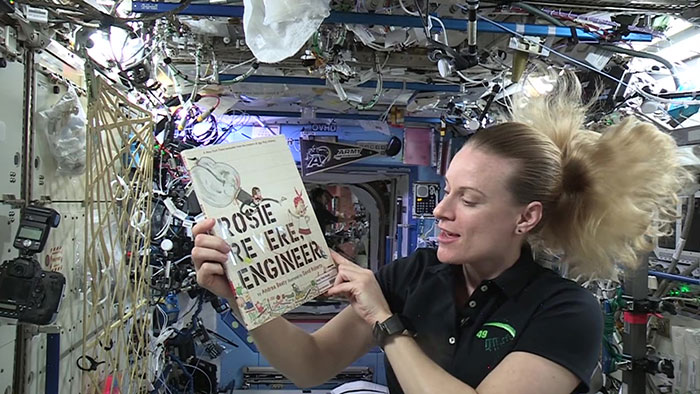 Enhance your Storytime and STEM programs with media read-alouds from thrilling places such as the International Space Station, mountains, forests, and the sea!
We are looking for 21 libraries in the Gulf Coast, and Great Lakes, and the Northeast regions of the United States to take part in STEM Tales – an exciting new project designed to engage children, ages 4-8, and their families in media read-alouds, STEM activities, and explore STEM at home via take-home kits.
STEM Tales media will feature diverse STEM professionals (astronauts, scientists, and engineers) reading STEM-aligned picture books, underscoring the maxim, "If you can see it, you can be it." The read-alouds will be enriched with animation and live-action footage of children doing STEM activities, easily replicable at home or in the library.
Applications are due Monday, November 7, 2022.
Each application requires one letter of support from your library's administration and one example STEM program you have implemented or plan to implement.
To Apply, click here: https://www.surveymonkey.com/r/2YCJRHT
Download Application Rubric here: https://www.starnetlibraries.org/2020/wp-content/uploads/2022/10/STEM-Tales-Scoring-Rubric-Updated.pdf
STEM Tales Project and application FAQ (Frequently Asked Questions) is located here:  https://www.starnetlibraries.org/2020/wp-content/uploads/2022/10/STEM-Tales-FAQ.docx
About the STEM Tales Project and Programming (find more details in the application)
Libraries selected for the STEM Tales Project will receive:
Professional development on the use of digital media and STEM activities, as well as gender-equitable and culturally responsive strategies to engage children and families in STEM library programs.
A STEM Tales Activity Guide with STEM activities aligned with STEM Tales episodes, a library kit of activity materials, and take-home kits to engage families in STEM exploration at home.
10 take-home kits with a book for families to take home.
Programmatic support (flyers, social media posts, etc.) to help recruit families.
Transportation reimbursement for families to get to and from the library, to eliminate barriers on participation.
$1600 stipend.
(Optional) Eight libraries will be selected to participate in the research study and receive an additional $500 to help children complete surveys and host a researcher visit to observe their program and talk to participants.
Libraries selected for the STEM Tales project are expected to:
Participate in a front-end evaluation (via an online or paper survey) in the fall of 2022.
Attend two 2-hour long virtual professional development in the fall of 2023 and two follow-up webinars for ongoing support.
Implement four STEM Tales programs (of 1-2 hours each) in 2024 with at least ten children and their parents/caregivers. These programs will consist of viewing one STEM Tales episode, doing one STEM activity, and sharing information about the reader's career.
Participate in a summative evaluation (via an online or paper survey) in 2024.
A pre-application webinar took place on Thursday, October 13th at 12:00 pm Mountain Time.