Bringing Space To Your Space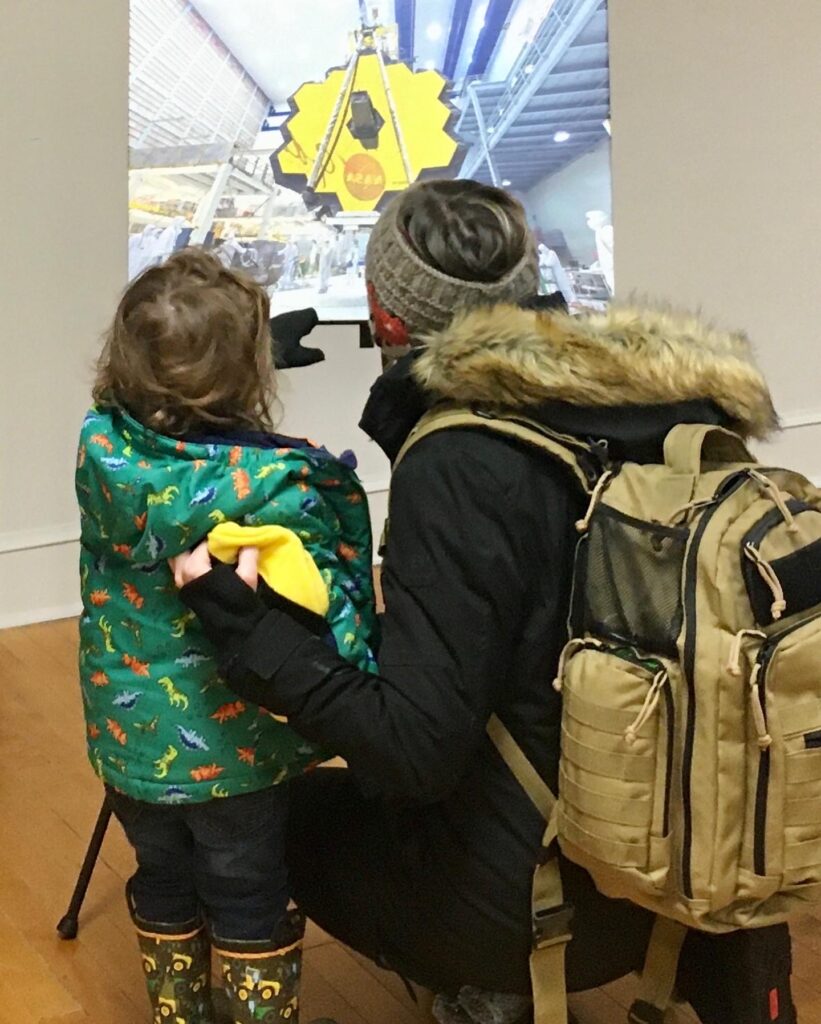 It all started in 2014, with an idea to put together a STEM presentation for a local school that my son was attending at the time. The thinking was I would combine several interesting  STEM experiences I had had as a kid growing up in Northern California. I had been lucky enough to attend the United States Space Camp in Huntsville, Alabama (www.rocketcenter.com/SpaceCamp) during back to back Summers in the mid-eighties. My father was a retired pilot and gave me occasional flying lessons when the opportunity came up. And I had great memories of guest presenters at our school from the nearby Lawrence Livermore Laboratory,  igniting my interest in science with their amazing physics demonstrations. The first launch the space shuttle Columbia occurred on April 12, 1981, and the Voyager 2 spacecraft made its closest approach to Saturn in August of that same year. This 10-year old was obsessed with all things space from that point on.
Fast forward back to 2014, and those key experiences formed a fun, interactive classroom presentation that had elements of space, aviation, history, and a look at some of the things NASA was doing at the time, the International Space Station (what it's like to live on the ISS), exploring Mars with rovers and orbiting spacecraft, and ending with a peek at the things coming in the near future, Commercial Crew, and Artemis. I shared mission patches, wore my Space Camp flight suit and had samples of types of foods the astronauts had access to on the ISS menu and ended with an activity on exercise in space for the astronauts health and well-being being for their expedition and their eventual return to Earth. An example of the activities I shared is here. https://www.nasa.gov/tla/activities
This one-off program was a huge hit, and wound up starting a chain reaction that carries me through to this day. The teacher that had me present to her classroom contacted me about the possibility of additional presentations for her fellow teachers classrooms? Other teachers and schools began reaching out. I had to do something. This was taking more and more time, and there was a constant need to find resources for presentations. I was advised to set my efforts as a nonprofit, and in 2016 Space St. Croix became a 501(c)3.
So now I had a STEM educational nonprofit named after the river, the St. Croix River that borders our city and Space, because Space is awesome!
How to expand and diversify the programming that I could offer to schools? There are several ways you can acquire professional development, training and additional resources for your programs and outreach. A lot of these opportunities will come down to how much time you have to dedicate to the research and commitments to the programs. In my particular case, I currently work part-time on STEM programming at my local library, and the other half of my time is dedicated to my education, outreach and teacher support programs through my nonprofit.
The Civil Air Patrol is an outstanding organization. You can go to www.gocivilairpatrol.com to see if there is a local squadron near you, find out more about their resources and more ways you can be involved. Another great aviation resource is the Experimental Aviation Association (www.eaa.org/eaa), here you can find your nearest EAA Chapter. I am a member of the EAA and they facilitate a program called Young Eagles. This program was started in 19992 and provides youth between the ages of 8-17 with their first free ride in an airplane. The youth will do a preflight inspection of the airplane with the pilot, have their own headset for the flight, receive a certificate and photo opportunity with the plane and pilot, and there is no cost.
This is an amazing opportunity, and I make this option available every time I offer a youth aviation camp or program at the library. I have established a relationship with our nearby EAA Chapter, and some of the pilots are willing to stop by to speak to the aviation participants at my library programs. I donate the Sport Aviation monthly magazine that is a part of my membership to the library as an additional resource to any youth in the area that would like to learn more about aviation opportunities.
The American Institute of Aeronautics and Astronautics (AIAA) offers free annual memberships, including a digital magazine subscription to high school age youth at (www.aiaa.org/membership) and scroll to High School Student. This can be a valuable fee resource to high schooler's, for those that may have an interest in potential careers in aviation or space.
And finally, NASA CONNECTS at (https://stemgateway.nasa.gov/con) where you can register as a formal or informal educator (out-of-school time) to be part of the Museum & Informal Education Alliance. Resources, opportunities for professional development, videos, resource links, mission briefings, etc. A fantastic resource, and a great way to connect with other educators across the country, or in your region for tips, collaboration or advice.
I hope you find some of these resources helpful in your efforts to provide STEAM programming in your area. I always want to help others that are trying to find the tools for more impactful programming for a wide variety of age groups. Many amazing educators over the years have steered me to many of the resources listed here. I wish you all the best with your programs, and please share any favorite resources you have come across in the comments below. Ad Astra!